Konstandinos Mahoney of the Barnes and Chiswick Stanza is the winner of this year's Stanza Competition for his poem 'Dr Mirabilis and the Brass Wall That Will Save England'. You can read the winning poem, and the top 13, on this page.
The theme was 'Walls' and judge Andy Croft said of Konstandinos's poem:
"enjoyable original take on Brexit, somewhat improbably via Roger Bacon."
Our joint Runners-Up are:
'The Penance of St Stephen' by Andy Jackson (Dundee)
'Toy Town' by Mark Fiddes (Clapham Originals)
Andy has also chosen ten other Commended poems:
'The Far Wall' by F J Williams (Staffordshire)
'Winds of Change' by Sheila Schofield (Treignac)
'Cavafy's Barbarians' by John Gohorry (Poetry ID, North Herts)
"Letting Her Go' by Bernie Cullen (York)
'Walls' by Sarah Barr (Wimborne)
'The Walls Between Us' by Simon Currie (York and Otley)
'Gated Community' by Mary King (Staffordshire)
'On and Off the Wall by Wendy Klein (Reading)
'Reportage, Grenfell Tower' by Joan Michelson (Palmers Green)
'The Door' by Kaye Lee (Palmers Green)
We received 337 poems from 210 poets, each of whom is a member of a Poetry Society Stanza. Each poem was sent in anonymously and Andy read every one.

Andy Croft:
"Who knew that there were so many good poems waiting to be written about walls? Among the 337 entries there were poems about the walls of Jericho, Babylon and Derry, Hadrian's Wall, the Berlin Wall, Grenfell Tower, the Wailing Wall, the Great Wall of China, Wall Street, the Antonine Wall and the Wall of Death. There were poems about garden walls, firewalls, party walls, thin walls, dividing walls, ruined walls, convent walls, climbing walls, harbour walls, church walls, execution walls, castle walls, prison walls, seawalls and dry-stone walls. Some wrote about flies on walls, walls with ears, walls of silence, walls for climbing and walls for jumping off; others about wallpaper, wall-calendars, graffiti, ice-cream and pork-pies (think about it), Pink Floyd, Trump and the Three Little Pigs.

Hard to choose among so many fine and enjoyable poems. But the most effective for me were those poems that moved with the greatest freedom around the theme of the competition, notably those that used the idea of 'Walls' as a way of talking about something else – for example, old age, dementia, loneliness, fear, silence, xenophobia."
The 2017 Stanza Poetry Competition is open exclusively to Poetry Society members (if you're not a member join here) who are also members of a Poetry Society Stanza.
Andy Croft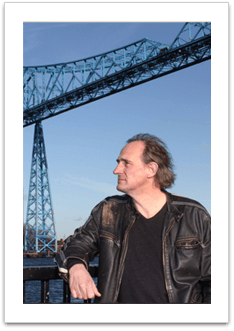 Andy is a writer, editor, and poet. Books of poetry include Nowhere Special, Gaps Between Hills (with Mark Robinson), Headland, Just as Blue, Great North, Comrade Laughter, Ghost Writer, Sticky, Three Men on the Metro (with W. N. Herbert and Paul Summers) and Nineteen Forty-eight (with Martin Rowson). He has edited several poetry anthologies, including Red Sky at Night (with Adrian Mitchell), North by North East (with Cynthia Fuller), Not Just a Game (with Sue Dymoke), The Night Shift (with Michael Baron and Jenny Swann), Speaking English: Poems for John Lucas, Everything Flows: A Celebration of the Transporter Bridge in Poetry and A Modern Don Juan: Cantos for these Times by Divers Hands (with Nigel Thompson). He writes a regular poetry column for the Morning Star, is director of the T-junction international poetry festival, and he runs Smokestack Books. andy-croft.co.uk
History of the competition
The annual Stanza Competition began in 2007 and is open exclusively to Stanza members who are also Poetry Society members. Free entry. Prizes: The winning poet is given the choice of a free Poetry Prescription or a year's Poetry Society membership – or the equivalent. There are two joint runners-up and ten commended poets. The theme for the competition is the antithesis or balance to that year's National Poetry Day theme.
Previous winners
2016: Pat Winslow (Oxford 2 Stanza), judged by Ros Barber
2015: Graham Burchell (Exeter Stanza), judged by Jo Bell
2014: Robin Houghton (Brighton Stanza), judged by Les Robinson
2013: Jan Bay-Petersen (Cambridge Stanza), judged by Neil Rollinson
2012: Angela Stoner (Penzance Stanza), judged by John Siddique
2011: Julia Webb (Norwich Stanza), judged by Carrie Etter
2010: Michael Swan (Oxford Stanza), judged by Sheenagh Pugh
2009: Julie Lumsden (Nottingham Stanza), judged by Philip Gross
2008: Rich Goodson (Nottingham Stanza), judged by Eleanor Cooke
2007: Emma Danes (Cambridge Stanza), judged by Roddy Lumsden