Poetry Society Member Philip Gross is one of five poets on the CLiPPA (Centre for Literacy in Primary Poetry Award) shortlist, now in its 17th year and the only award for published poetry for children in the UK. CLiPPA highlights an important branch of children's literature, ensuring that it receives proper recognition.
The CLiPPA 2019 shortlist:
Kwame Alexander – Rebound (Andersen Press)
Steven Camden – Everything All At Once ( Macmillan Children's Books),
Eloise Greenfield – Thinker: My Puppy Poet and Me (Tiny Owl)
Philip Gross – Dark Sky Park (Otter-Barry Books)
Rachel Rooney – A Kid in My Class (Otter-Barry Books)
The Poetry Show, where the 2019 winner will be announced, will be held in summer 2019.
This year the Chair of the Judging panel is AF Harrold, multi-award-winning author, performer and poet. AF will be joined by a range of poetry experts who share a passion for poetry and its place in children's literacy – Karl Nova – 2018 CLiPPA winner with his debut collection Rhythm and Poetry, Susannah Herbert – director of Forward Arts Foundation and National Poetry Day, Ruth Awolola – highly commended at CLiPPA 2018 with her poems which were included in the Rising Stars: New Young Voices in Poetry collection, and Charlotte Hacking – CLPE Learning Programme Leader.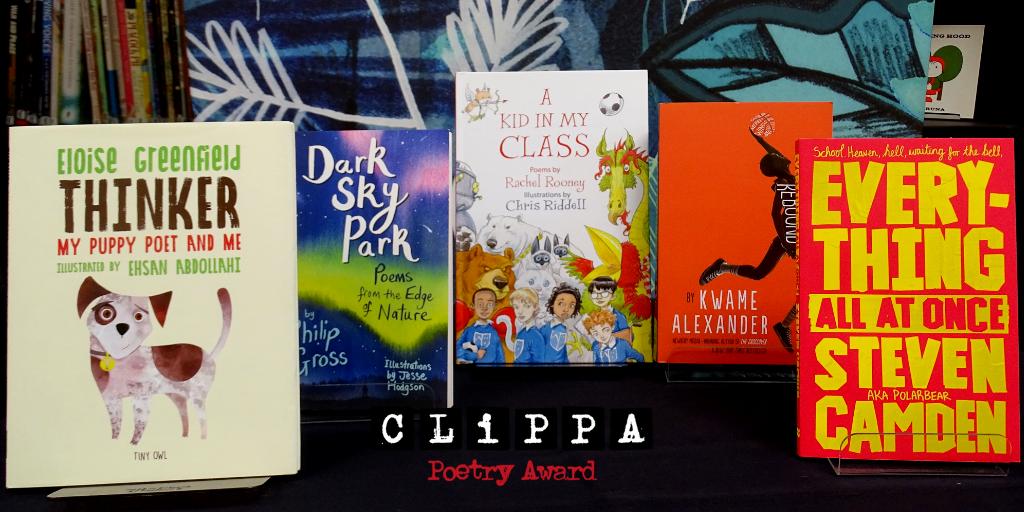 25 April 2019