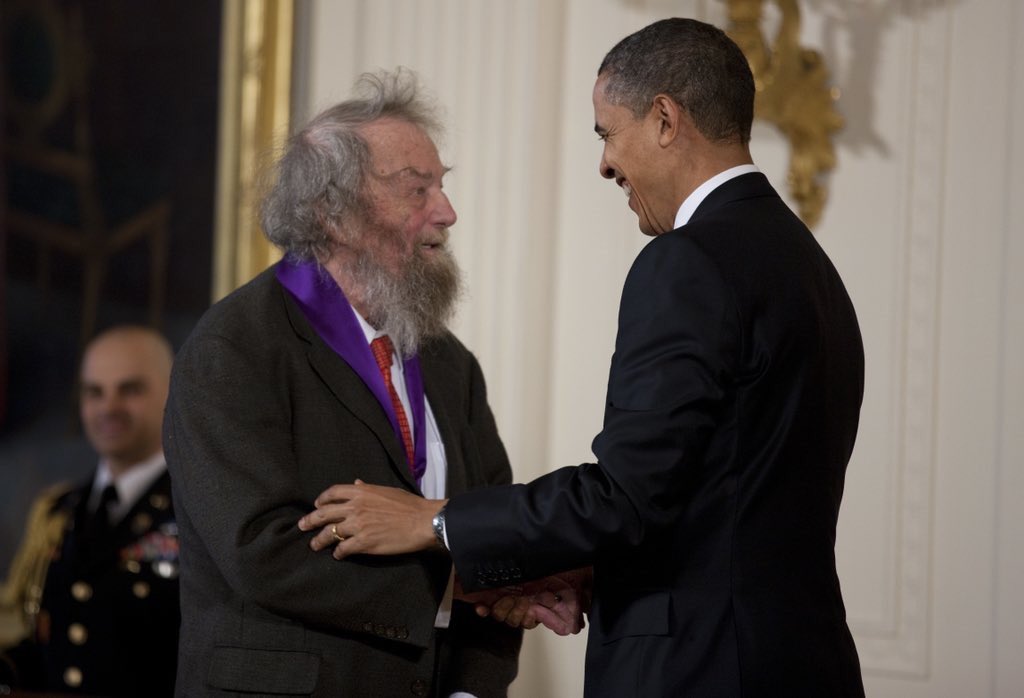 Donald Hall was a prolific author who began writing when he was just 12 years old. Over the course of a career that spanned more than seven decades, he wrote over 40 books, about half of which were works of poetry. In 2006, he was appointed as U.S. Poet Laureate and awarded the 2010 National Medal of Arts by President Barack Obama.
Regarded as a "plainspoken, rural poet," Hall's work "explores the longing for a more bucolic past and reflects the poet's abiding reverence for nature." His recurring themes include New England rural living, baseball, and how work conveys meaning to ordinary life. He is regarded as a master both of received forms and free verse, and a champion of the art of revision, for whom writing is a craft, not merely a mode of self-expression.
Early in his career, he became the first poetry editor of The Paris Review (1953–1961), a prominent quarterly literary journal, and was noted for interviewing poets and other authors on their craft. Hall was respected for his work as an academic, having taught at Stanford University, Bennington College and the University of Michigan, who has made significant contributions to the study and craft of writing.
While an undergraduate at Harvard, Hall served on the editorial board of The Harvard Advocate, and got to know a number of people who, like him, were poised with significant ambitions in the literary world, amongst them John Ashbery, Robert Bly, Kenneth Koch, Frank O'Hara, and Adrienne Rich.
After leaving Harvard, Hall went to Oxford for two years, to study for the B.Litt. He was editor of the magazine Oxford Poetry, as literary editor of Isis, as editor of New Poems, and as poetry editor of The Paris Review. At the end of his first Oxford year, Hall also won the university's Newdigate Prize, awarded for his long poem, 'Exile'.
On returning to the United States, Hall went to Stanford University, where he spent one year as a Creative Writing Fellow, studying under the poet-critic, Yvor Winters. Following his year at Stanford, Hall went back to Harvard, where he spent three years in the Society of Fellows. During that time, he put together his first book, Exiles and Marriages. In 1957, with Robert Pack and Louis Simpson, he edited an anthology which was to make a significant impression on both sides of the Atlantic, New Poets of England and America. It was later juxtaposed with Donald Allen's The New American Poetry 1945–1960.
While teaching at the University of Michigan in Ann Arbor, Michigan, he met poet Jane Kenyon, whom he married in 1972. In 1989, when Hall was in his early sixties, it was discovered that he had colon cancer. Surgery followed, but by 1992 the cancer had metastasized to his liver. After another operation, and chemotherapy, he went into remission, though he was told that he only had a one-in-three chance of surviving the next five years. Then, early in 1994, it was discovered that Kenyon had leukemia. Her illness, her death fifteen months later, and Hall's struggle to come to terms with these things, were the subject of his 1998 book, Without. Another book of poems dedicated to Kenyon, Painted Bed, is cited by Publishers Weekly as "more controlled, more varied and more powerful, this taut follow-up volume reexamines Hall's grief while exploring the life he has made since. The book's first poem, 'Kill the Day,' stands among the best Hall has ever written. It examines mourning in 16 long-lined stanzas, alternating catalogue with aphorism, understatement with keened lament: 'How many times will he die in his own lifetime?'
He was for five years Poet Laureate of his home state, New Hampshire (1984–89), and among the many other honours and awards to have come his way were: the Lamont Poetry Prize for Exiles and Marriages (1955), the Edna St Vincent Millay Award (1956), two Guggenheim Fellowships (1963–64, 1972–73), inclusion on the Horn Book Honour List (1986), the Sarah Josepha Hale Award (1983), the Lenore Marshall Poetry Prize (1987), the National Book Critics Circle Award for Poetry (1988), the NBCC Award (1989), the Los Angeles Times Book Prize in poetry (1989), and the Frost Medal (1990). He was nominated for the National Book Award on three separate occasions (1956, 1979 and 1993). In 1994, he received the Ruth Lilly Poetry Prize for his lifetime achievement.
25 June 2018