Prepare to pin your poem to a map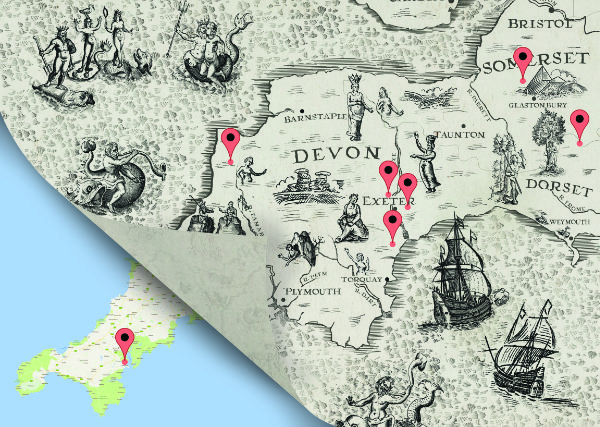 Here comes a new project led by poet Paul Farley and the academic Andrew McRae from the Universities of Lancaster and Exeter – and The Poetry Society is its proud partner.
Places of Poetry is a community arts project, centred on a newly designed digital map of England and Wales. Through the course of a four-month summer public campaign, writers from across the country will be invited to write new poems of place, heritage and identity, and pin them to the map. Places of Poetry will help us reflect on our national and cultural identities, and celebrate the diversity, heritage and personalities of place.
For centuries, authors have used poetry to reflect on local and national identities. One poet, Michael Drayton, published the epic of national description, Poly-Olbion (1612, 1622), that included the county maps to be adapted for Places of Poetry. Contemporary technology-based crowd-sourcing now enables us to involve writers of all ages, backgrounds and levels of experience in similar reflection on places and their histories.
The digital map will be overlaid on Ordnance Survey data, on a platform that enables users to slide between the two and zoom in to a high level of detail. Writers will be invited to pin poems to sites that have inspired the writing. The Poetry Society is currently devising a series of prompts and exercises for all levels of writer to encourage their new poems of place.
Additionally, events and activities will be staged at various heritage partner sites across England and Wales, each of which will have a poet-in-residence. Confirmed venues at this stage include Avebury (National Trust), Big Pit National Coal Museum, Byker Community Trust, Caernarfon Castle, Ely Cathedral, Hadrian's Wall (National Trust), The Oval (Surrey County Cricket Club), Peak District National Park (National Trust), Roman Baths, Severn Rivers Trust, Sherwood Forest (RSPB), Stonehenge (English Heritage), and the Wordsworth Trust. We'll also be encouraging other heritage sites – of all kinds and sizes – to become involved and create their own activities and events.
The Places of Poetry project is generously funded by the Arts and Humanities Research Council, The Heritage Lottery Fund and Arts Council England. It is underpinned by national partnerships with the Ordnance Survey and The Poetry Society.
Follow the project – towards its public launch in May 2019 – on Twitter, Facebook and Instagram. For more details at this early stage, please email [email protected]